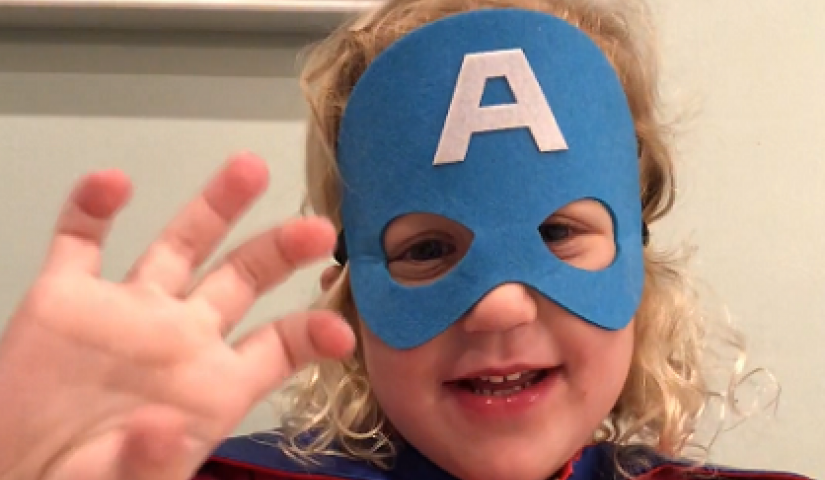 Participant Spotlight
Participant Spotlight: Meet Lilah—4-year-old T1D Research Superhero!
At just 4 years old, Lilah Montgomery is fearless, outgoing, and a type 1 diabetes (T1D) research superhero!
Lilah's parents, Laura and Ian, decided a family TrialNet screening was in order after their son, Lincoln, was diagnosed with T1D at age 5. The screening showed Lilah has multiple autoantibodies showing a high risk of T1D in her future.
The Montgomerys, who live in Ontario, Canada, were thankful to have this advance warning they did not have with their son. "We were told about the HCQ Prevention Study and were relieved there was something we could do," Laura Montgomery remembers.
TrialNet's Hydroxychloroquine (HCQ) Prevention Study is testing the drug hydroxychloroquine to see if it can slow down or stop T1D. Already used to reduce symptoms and progression of other autoimmune diseases, such as rheumatoid arthritis and lupus, this is the first study to see if HCQ can prevent or delay T1D.
Laura and Ian decided it would be better to try to delay the disease than do nothing at all. "Even if we had no chance of it helping our family, the fact that our participation could help others in the future is worth it. And, if we could delay Lilah's diagnosis, that would be great!"
An important factor in making the decision to enroll Lilah in the study was Laura's diagnosis with stage 4 metastatic breast cancer in 2018. Laura says, "Because of someone's participation in a cancer clinical trial 10 years ago, I am able to receive targeted therapies that may not have otherwise been available."
Their one concern was whether Lilah would be able to swallow the daily pill. "One of the moms on a local Facebook support group shared some tips about how to get kids to swallow a pill," explains Laura. "We started practicing swallowing Nerds and worked our way up to Tic Tacs and Skittles." You can see how Lilah has become a pro at taking her pill here.
"We told Lilah that it's very likely she will have T1D just like her brother," said Laura. "She's aware that it could happen, and she knows she's taking these pills to try to slow it down."
It's an hour and a half drive to SickKids Hospital in Toronto, where Lilah is participating in the HCQ Study. Laura says, "We make it fun—like a little vacation. Our experience has been wonderful. They've made it so easy, and the nurses there are wonderful."
The Montgomerys report that Lilah is being closely monitored, and they take comfort in knowing if her numbers change. "Our son's sudden diagnosis was all consuming," says Laura. "There was so much to learn, and we weren't prepared.
The HCQ study gives us time to prepare Lilah and ourselves." "Knowing in advance gives you time to participate in a prevention study. And the chance to try to slow it down is worth it 100%."