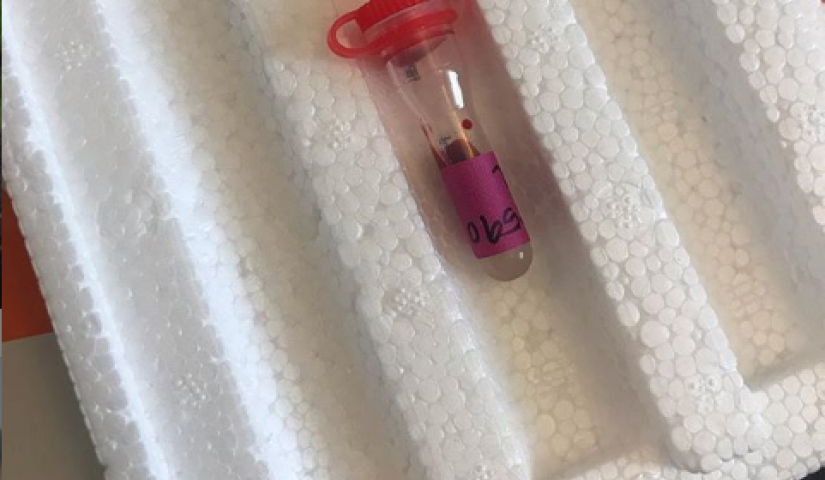 Research Spotlight
In-home test kits make TrialNet screening convenient and easy
TrialNet screening is free, quick, and now more convenient than ever. Our new in-home test kits provide everything you need to collect your or your family member's blood sample in the comfort of your home. 
If you're in the U.S all you need to do is visit trialnet.org to complete the online consent form and order your test kit. When it arrives in the mail, collect ~10 drops of blood using a finger prick, place it in the collection envelope, and send back to TrialNet within the next 24 hours via FedEx drop-off. Participants tell us it's surprisingly easy! If you're outside of the U.S, just complete the form on trialnet.org and a Study Coordinator will contact you with information.
TrialNet screening can detect type 1 diabetes (T1D) sometimes years before symptoms occur. For relatives of those with T1D, who are 15 times more likely to develop it, screening makes intervention possible.
Detecting the disease in its earliest stage gives you the opportunity to change the course of the disease. TrialNet offers clinical trials testing ways to slow or stop the disease.
You qualify for free screening if:
you are between the ages of 2.5 and 45, and have a parent, brother/sister, or child with T1D, or
you are between the ages of 2.5 and 20 and have an aunt/uncle, cousin, grandparent, niece/nephew, or half-brother/sister with T1D, and
you have not been diagnosed with diabetes.
Your results will be ready in 4-6 weeks. If your blood sample is insufficient for analysis or you test positive for T1D related autoantibodies, you will be asked to come to a TrialNet location for a blood draw.
To order your in-home test kit, visit trialnet.org/participate. If you have questions, contact TrialNet at 1-800-425-8361 or email us at info@trialnet.org.