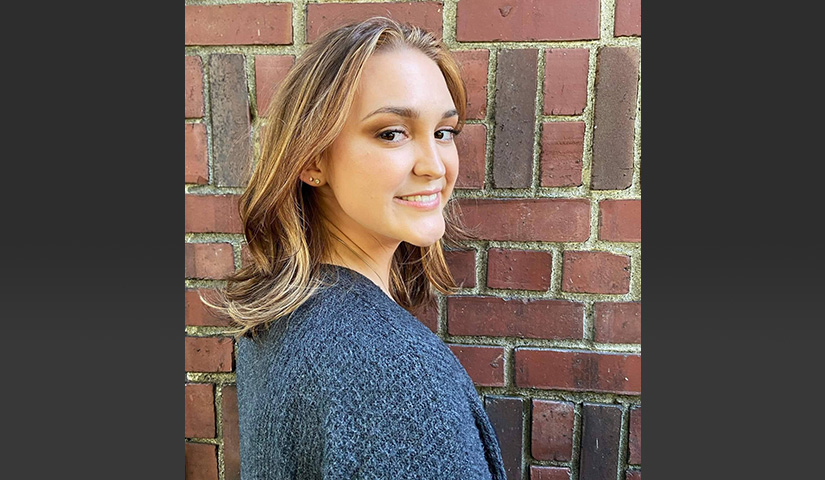 Participant Spotlight
Immunotherapy proven to slow T1D progression in people newly diagnosed now being tested for prevention
Amber Van Den Heuvel received low-dose anti-thymocyte globulin (ATG) in 2015 as a participant in a TrialNet clinical study for people newly diagnosed with type 1 diabetes (T1D). Five years later, she still had beta cell function. Today, at age 26, Amber is encouraging people at high risk for T1D to consider participating in a TrialNet prevention study using the same therapy.
Amber Van Heuvel was diagnosed with type 1 diabetes (T1D) in August 2015, just three days before leaving her home in Jacksonville to start college at the University of Florida (UF) in Gainesville. To help ensure Amber got proper medical care, her mom sought out the area's best endocrinologists. Fortunately, she found Michael Haller, M.D., Chief of Endocrinology and Pediatrics at UF.
At the time, Dr. Haller was leading a TrialNet clinical study testing the effectiveness of an immunotherapy called low-dose anti-thymocyte globulin, or ATG, in people newly diagnosed with T1D. Amber joined the study in November and received two infusions of low-dose ATG over two days. Five years later Amber still had beta function, an important indicator of slowed disease progression.
The study's findings, published by Diabetes in March 2019, show low-dose ATG preserved insulin production and improved long-term blood sugar control for two years in people like Amber who were newly diagnosed. Based on these impressive results, TrialNet researchers are now conducting a study to see if low-dose ATG can benefit people at high risk of T1D.
"We are extremely encouraged by the results of our earlier study," said Dr. Haller, who is also  leading the current prevention study. "An important next step is to see if the same immunotherapy can help prevent the disease from progressing to clinical diagnosis."
New study aims to STOP-T1D in people at high risk
The STOP-T1D study is now enrolling people from age 12 up to 35 who are at high risk of developing T1D. For this study, high risk is defined as having two or more diabetes-related autoantibodies and abnormal blood sugar (Stage 2), plus at least one more high-risk marker based on additional TrialNet testing. Those eligible for this study have a 50% chance of clinical diagnosis in two years.
Of the 114 participants in the STOP-T1D study, two-thirds will get ATG and one-third will get a placebo (looks like the study drug but has no active ingredients). In the treatment phase, participants will get two doses of the study treatment (ATG or placebo) by intravenous (IV) infusion over two days. After that, participants will make regular visits to the study site for at least 24 months for monitoring and tests.
"Both preclinical and clinical data have shown that low-dose ATG can slow the progression of type 1 diabetes," said Dr. Haller, who is also leading the current prevention study. "Now, we're excited to learn whether it can slow or stop disease progression in people at high risk."
Today, Amber credits ATG with slowing the progression of her disease and urges others to consider participating in the STOP-T1D Study.
"Seriously consider it," she advises. "I didn't have the opportunity to do any sort of prevention. And for people at high risk, a prevention study would equip them for a clinical diagnosis and set them up for success. For me, the side effects of ATG were temporary and comparable to the flu. The UF team provided a great support system. They answered all my questions and made me feel heard. I had a great experience!"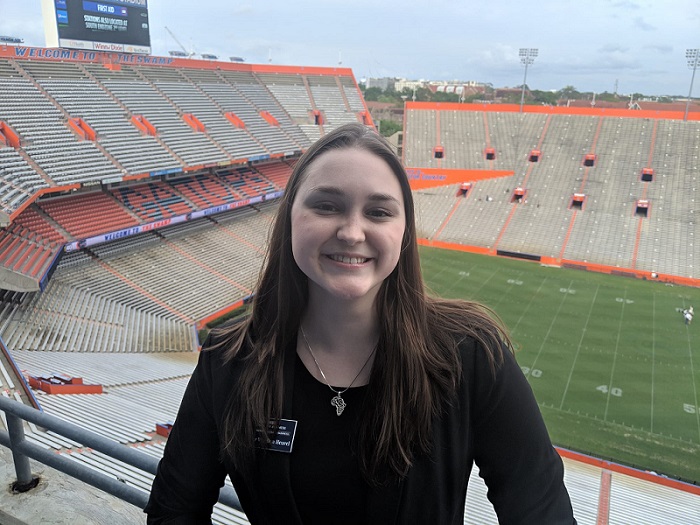 A graduate of the University of Florida, Amber works as a Human Resources Data Analyst for Citibank in Tampa, where she's also part of an employee network that advocates for employees with disabilities. Using her experience with T1D, she's working with her employer to make people more aware of T1D, reduce the stigma, and increase access to resources.
To learn more about the STOP-T1D Study, as well as risk screening to identify T1D in its earliest stages, visit trialnet.org/stop-t1d.