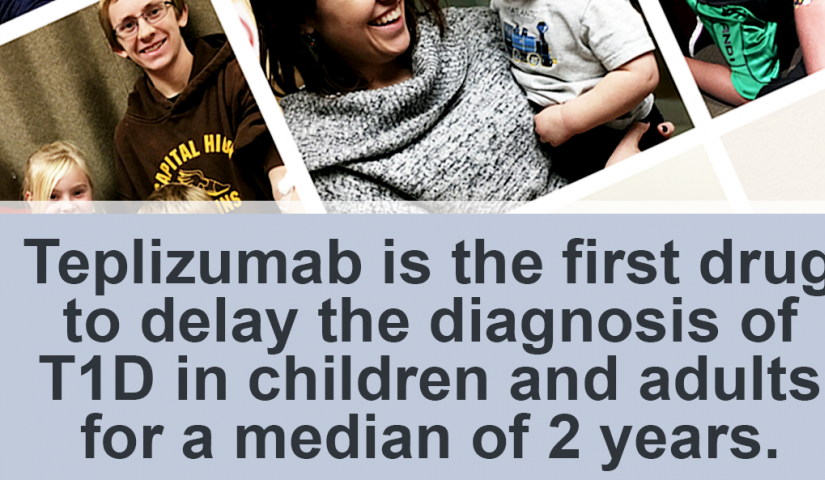 Study Findings
Teplizumab is the first drug to delay the diagnosis of T1D for a median of two years
Teplizumab Prevention Study Chair Kevan Herold, M.D., Yale University, presented first-of-a-kind findings showing that teplizumab delayed type 1 diabetes a median of 2 years in children and adults at high risk. Findings were also simultaneously published in the New England Journal of Medicine 
"This is the first study to show any drug can delay type 1 diabetes diagnosis a median of 2 years in people at high risk," explains Dr. Herold. "As anyone with type 1 diabetes will tell you, every day you can delay this disease is important." 
Teplizumab is an immunotherapy drug designed to interfere with the body's immune destruction of its own beta cells. While previous studies showed teplizumab prolonged insulin production in people recently diagnosed, this is the first study to test it in people at high risk. 
Of the 76 participants in the study, 55 were under age 18 and all had a relative with type 1 diabetes. All participants had two or more type 1 diabetes autoantibodies and abnormal blood sugar levels, as identified by TrialNet screening. These individuals are thought to have a lifetime risk of clinical diagnosis nearing 100%. 
Participants were randomly assigned to either the treatment group, which received a 14-day course of teplizumab, or the control group, which received a placebo. All participants regularly received glucose tolerance tests until the study was completed, or until they developed clinical type 1 diabetes – whichever came first.
72% of people in the control group developed clinical diabetes, compared to only 43% of the teplizumab group. The median time for people in the control group to develop clinical diabetes was just over 24 months, while those who developed clinical diabetes in the treatment group had a median of 48 months before progressing to diagnosis.
This study highlights that type 1 diabetes is an autoimmune disease that can be delayed with immunotherapy. Samples collected during the trial are being studied to help researchers understand why certain people responded to teplizumab better than others. Next, TrialNet researchers will look for ways to extend the benefits of teplizumab, while continuing to test other immune therapies. 
You can help advance type 1 diabetes research
TrialNet is continually planning and launching new studies. And, we always encourage family members of people with T1D to get screened through the Pathway to Prevention study.