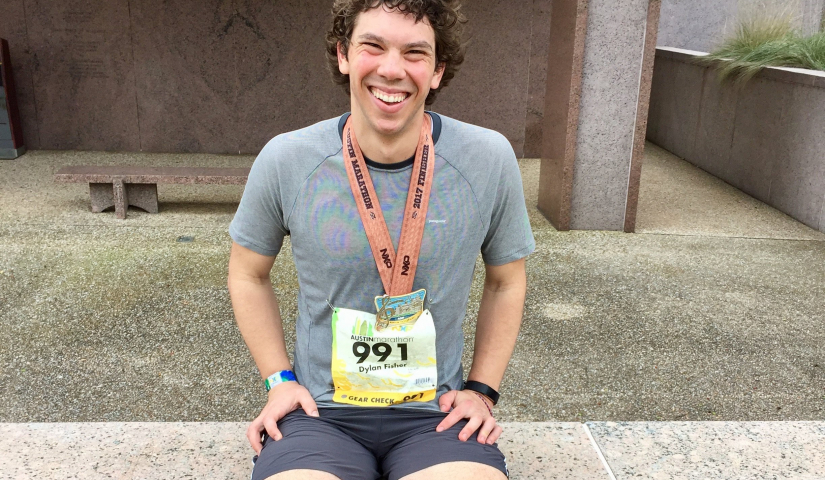 Participant Spotlight
Meet Dylan Fisher—helping find new treatments for T1D
Dylan Fisher was 27 and training for a marathon in 2019 when a routine physical led to a type 2 diabetes diagnosis. "The diagnosis just felt off," he said.  
Turns out he was right. A year later, after moving to Atlanta and getting a new endocrinologist, Dylan got a correct diagnosis: type 1 diabetes (T1D).  
Today, Dylan is a participant in TrialNet's Tolerance Using Plasmid in People with T1D (TOPPLE) Study. He says, in addition to helping develop new treatments for T1D, a key benefit has been all the medical attention he receives from the TrialNet team at the University of Florida (UF), Gainesville. 
What is the Tolerance Using Plasmid in People with T1D (TOPPLE) Study? 

Now enrolling participants at 16 sites across the United States, the TOPPLE Study is testing the safety and dosing of a new plasmid therapy. Called NNC0361-0041, it carries DNA into cells where it can communicate with the immune system.  

Earlier studies in the lab show this therapy might be able to retrain the immune system to stop its attack on insulin-producing beta cells. This study is the first to test the plasmid in people, which is why it's called a phase 1 study.  

The TOPPLE Study is open to adults ages 18 to 45 with a T1D diagnosis in the past 48 months.   
"That was a big reason I decided to participate—to have this kind of intensive support in managing my diabetes," explains Dylan. "One thing that has stood out to me is the amount of time everyone takes to just talk—whether it's about the study or managing my diabetes. I started insulin 2 months before I started the study, so it all feels very new. It's been really meaningful to be able to sit down, have a conversation and not feel rushed."  
"Every time [UF Co-Investigator] Dr. [Laura] Jacobsen comes in, she asks me what's new with my diabetes. She walked me through the process of what it looks like to use an insulin pump or continuous glucose monitor— which is all new to me. I wish all medicine worked this way."   
A writer and teacher also pursuing his Ph.D. in Creative Writing at Georgia State University, Dylan says the timing of the study worked out perfectly for him. "This past year, I've been lucky enough to take my grad classes and teach undergrad classes all online."  
UF Clinical Site Coordinator Jennifer Hosford says, "Dylan is absolutely fabulous! He's got a great understanding of the study. There are 12 study visits over 12 weeks, so it's a process with lots of scheduling and logistics. I tell our participants right at the outset, 'phase 1 studies are different—we're going to be testing a lot, we're going to be talking a lot.'" 
Dylan adds, "Jen has made it so easy. All I had to do was send the dates that work for me, and she made all the arrangements. Due to the pandemic, my first study visit was the first time I traveled in a year and a half. In some ways it was like a vacation. I've found I can do my best writing and most focused reading during the flights between Atlanta and Gainesville." 
Although the marathon Dylan was training for when he got his original diagnosis was canceled due to the pandemic, he's still running. And he's happy to be part of another race: to find new treatments for T1D. 
About the TrialNet Team at University of Florida (UF), Gainesville 

The University of Florida (UF) is one of 17 TrialNet Clinical Centers at the forefront of type 1 diabetes research. Led by Principal Investigator Michael Haller, M.D., the TrialNet team at UF is dedicated to preventing type 1 diabetes and stopping disease progression by preserving insulin production before and after diagnosis.  

UF has enrolled more participants in the TOPPLE Study than any other site. Because they cover a large geographic region in the southeast, they also get patients from Georgia and the Carolinas.  

According to Clinical Site Coordinator Jennifer Hosford, "A lot of our patients travel, so we make sure they're good candidates before they even make the screening visit. To date, all of our patients who have been eligible for the TOPPLE Study have joined it." 

The TrialNet research team at UF (left to right): Dr. Laura Jacobsen, Dr. Michael Haller, Jennifer Hosford, and Danielle Poulton. 
To learn more about the TOPPLE Study or find out if you're eligible, visit trialnet.org/topple.