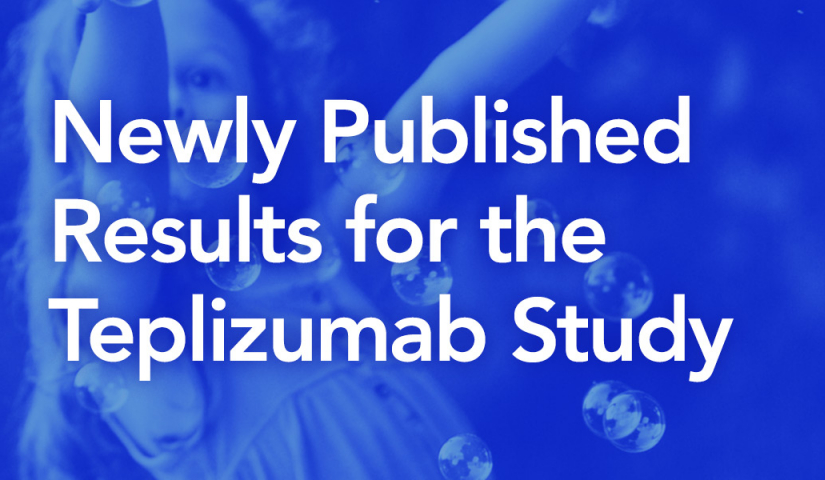 Study Findings
TrialNet Research Continues to Close in on Type 1 Diabetes Prevention
New TrialNet research findings published today in Science Translational Medicine show that a 14-day course of the immunotherapy drug teplizumab provided an additional year of delay in onset of type 1 diabetes and improved insulin production, increasing the overall benefit to high-risk individuals reported in the original study findings in 2019. 
 
TrialNet Investigator Emily K. Sims, M.D., Indiana University, reported her findings after extended follow up with participants from the Teplizumab Prevention Study, which concluded last year. That study, led by TrialNet Principal Investigator Kevan C. Herold, M.D., Yale University, was the first to show a median 2-year delay of type 1 diabetes in high risk individuals. 
 
The latest findings show ongoing delay in diabetes, with a median time to diabetes diagnosis of approximately 60 months (5 years) in the teplizumab group vs. approximately 27 months (2.3 years) in the placebo group.  
 
In addition to having even more pronounced disease delay, those treated with teplizumab showed improved rates of insulin production, despite exhibiting insulin loss over time prior to treatment. Participants receiving a placebo continued to show a decline in insulin production consistent with disease advancement. 
 
Participants electing to continue being followed will be tested every 6 months, so researchers can continue to track changes. Sims and Herold are hopeful the disease delay will extend even further over time. 
 
Study participants are relatives of people with type 1 diabetes who have two or more autoantibodies and abnormal blood sugar levels, as identified by TrialNet's Pathway to Prevention screening. These individuals are believed to have a lifetime risk of clinical diagnosis nearing 100%. Of the original 76 individuals participating in the study, 55 were under age 18.

"These are tangible results, not only for researchers working to prevent this disease, but for family members of people with type 1 diabetes," said TrialNet Chair Carla Greenbaum, M.D., Director of the Diabetes Research Program at Benaroya Research Institute at Virginia Mason in Seattle.
 
Extending the time it takes to develop type 1 diabetes is significant. It can be life changing for young children, allowing them time to reach an age where they can better cooperate and understand the rigorous treatment regimen. It also gives hope that the future will be easier for family members of people with type 1 diabetes, who are 15 times more likely to develop the disease.
 
Relatives of people with type 1 diabetes are urged to get free Pathway to Prevention screening. TrialNet screening can detect risk years before symptoms appear, opening the door for early intervention with monitoring and clinical trials testing ways to prevent and delay type 1 diabetes. In-home test kits make it possible to get screened without leaving home.