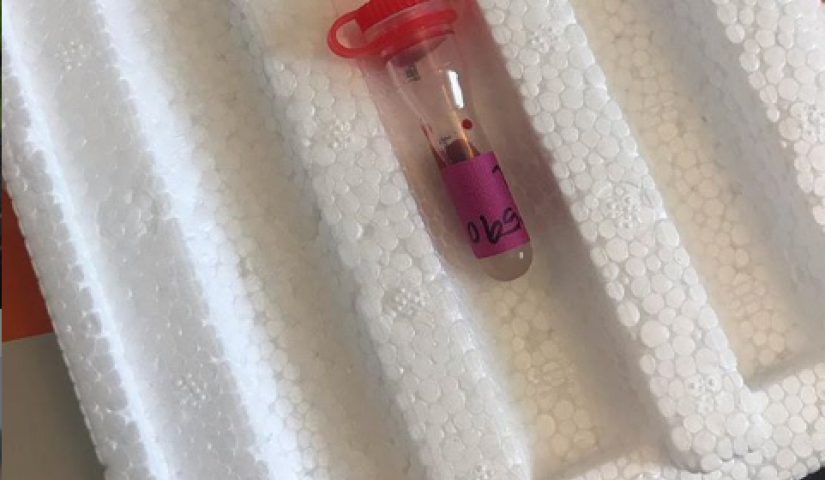 Research Spotlight
You can still make a difference from home with a TrialNet in-home risk screening kit
During this difficult time for families around the world, staying at home is vitally important to controlling the spread of COVID-19. And, we're continually amazed and thankful to see all the ways families are finding ways to make a difference.
If you have a relative with type 1 diabetes (T1D), you can help make a difference by advancing vital T1D research from the safety of your home. If you are in the U.S., all you need to do is register online and order an in-home Pathway to Prevention risk screening test kit. If you are outside the U.S, visit www.trialnet.org/locations for TrialNet contact information in your country.
Relatives of people with T1D are 15 times more likely to develop the disease than the general population. That's why TrialNet's T1D risk screening is so important. Screening can detect T1D in its earliest stages— sometimes years before symptoms occur—allowing time for intervention. You'll also help researchers learn more about how T1D develops and plan new studies exploring ways to prevent it.
If you or your family members have not been screened, please consider ordering your free in-home test kit today and help move research forward.
In-home test kits provide everything you need to collect your or your family member's blood sample at home. When your kit arrives in the mail, you'll collect about 10 drops of blood with a finger prick. Then, you'll place it in the collection envelope and send it back to TrialNet within the next 24 hours via FedEx drop-off.
Results are typically reported in 4-6 weeks; however, screening results may be delayed due to current lab demands related to COVID-19.
Once you've completed your test, we invite you to share your photo on Facebook, Twitter and Instagram using #T1Dfamily and #TrialNetAtHome. Or, send us your photo.
Eligible family members in the U.S. can register here. If you are outside the U.S., visit www.trialnet.org/locations for TrialNet contact information in your country. 
Family members qualify for free risk screening if they:
Are between the ages of 2.5 and 45 years and have a parent, brother/sister, or child with T1D (ages 3-45 in the United Kingdom)
Are between the ages of 2.5 and 20 years and have an aunt/uncle, cousin, grandparent, niece/nephew, or half-brother/sister with T1D (ages 3-20 in the United Kingdom)
Have not been diagnosed with diabetes
Have not participated before
If you recently ordered a lab test kit to take to Quest, LabCorp or a local lab and would like to replace it with an in-home test kit, please email info@trialnet.org or call 1-800-425-8361. 
We hope you are all staying safe, and thank you for your continued support of important type 1 diabetes research.
Questions? Contact TrialNet at 1-800-425-8361, or email us at info@trialnet.org.
Connection is key! Share your #TrialNet or #TrialNetAtHome experience with your fellow #T1DFamily on social media or send it to us here.