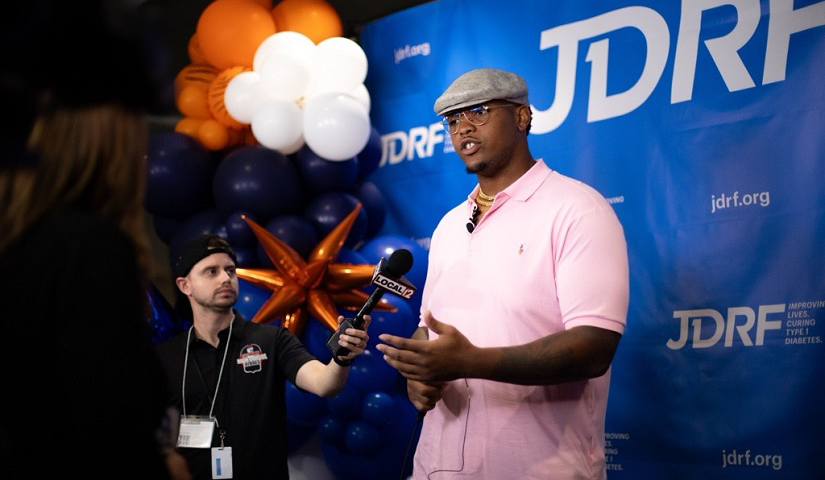 Participant Spotlight
NFL Super Bowl Champion Orlando Brown, Jr. hosts JDRF event in Cincinnati – encourages T1D family members to get screened, help advance science
Photo courtesy of JDRF Southern & Central Ohio Chapter
During what proved to be an unforgettable celebration by the JDRF community in Cincinnati, NFL Super Bowl Champion and Bengals offensive lineman Orlando Brown, Jr. encouraged relatives of people with type 1 diabetes (T1D) to get screened by TrialNet to help advance research.
Brown told the estimated 500 people in attendance at Bengals' Paycor Stadium about his family's history of T1D. His younger brother was diagnosed at age 11. Their father died of diabetic ketoacidosis at age 40, although he had not been diagnosed with diabetes.
People who have a relative with T1D have a 15x higher risk of developing T1D than those with no family history. Last summer, when Brown learned that autoantibody screening could detect the early stages of T1D years before symptoms appear, he made the important decision to get screened by TrialNet. Now he's committed to helping raise awareness of T1D screening and research.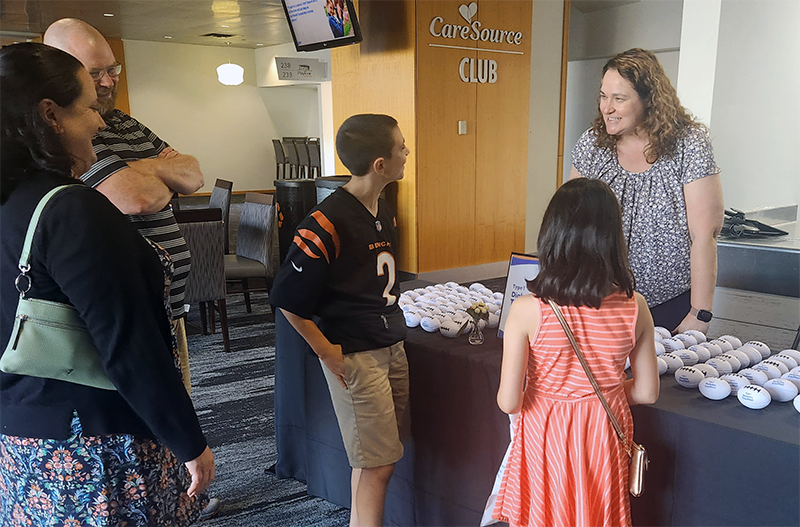 TrialNet Research Nurse Coordinator Kelli DeLallo shared information about screening and clinical studies at the JDRF Community Event Celebrating Orlando Brown, Jr. in Cincinnati.
The TrialNet screening process is simple – a small blood sample is collected, then tested for up to five types of autoantibodies associated with T1D. Results are usually ready in 4 to 6 weeks.

TrialNet offers three ways to get screened for free:

order an in-home test kit to collect a small blood sample using a fingerstick,
order a lab test kit to take to a local lab for a blood draw, or
schedule a blood draw at a participating TrialNet site.

If your screening results show no T1D autoantibodies, your current risk of developing T1D is low. This does not guarantee you will never develop autoantibodies or T1D, but science suggests it is uncommon for those without autoantibodies to later develop multiple autoantibodies.

If T1D autoantibodies are detected, you will have access to a TrialNet research team who will partner with you to provide the latest information about risk, disease progression and options to change the course of the disease. Depending on the number of autoantibodies you have, you may be eligible for monitoring or clinical studies aimed at slowing or stopping disease progression.

To learn more about T1D autoantibody screening for your family, visit trialnet.org/participate.

If you have screened positive for autoantibodies through another program or you were recently diagnosed with T1D, you may be eligible to participate in a TrialNet clinical study. Learn more at trialnet.org/our-research.